The principal beneficiaries of the estate of Pam & Harold Silver namely Vicki & Claire Silver have established a special Memorial Fund to further the outstanding work of their parents. The administrating of this fund has been set up through DEAFAX, which is a registered charity and with support from METEC (Medical Education Technology Enterprises Consortium) which will aim to support research and other projects and activities which improve access to Further & Higher Education for those disadvantaged by Deafness, Poverty, Special Needs/Disability, Ethnicity, Gender or other factors.
All those involved foresee the fund being established and managed in the following way:
The initial capital of up to £500.000 has been donated to DEAFAX which Harold helped to set up with Ken Carter and now led by Helen Lansdown (CEO) and will manage the fund in perpetuity.
The capital to be invested appropriately by the Trustee/Directors with professional advice as a designated fund
The fund to be titled "The Pam and Harold Silver Memorial Fund"
The income generated from the investment may be used on an annual basis or other period which the charity trustees may decide
It may be used to support a piece of research, a project or pilot project, a scoping exercise, the development of assistive technology and software, conferences, seminars, publications or other multi-media productions which aims to promote and improve access to Further & Higher Education for those who may be disadvantaged as described above
It may also be used as an annual bursary to support individuals who otherwise would not be able to reach their full potential in Further Higher Education
It may also be used to purchase equipment, technology and software which will assist and enable disadvantaged people to reach their full potential in Higher Education
It may be used to support suitable projects and activities within the charity itself or to fund suitable projects and activities being undertaken by other charities
In all cases, the support provided should be deemed by the Trustee/Directors to be additional to and not to duplicate or replace funding which should properly be provided by public bodies.
Contact Details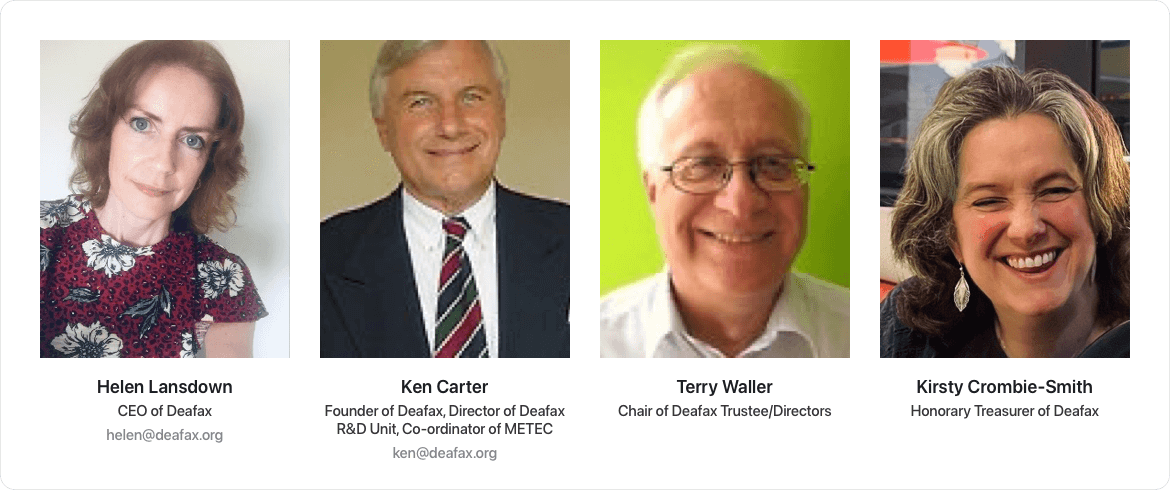 Helen Lansdown – CEO of Deafax: helen@deafax.org
Ken Carter – Founder of Deafax / Director of the Deafax Research & Development Unit / Coordinator of METEC: ken@deafax.org
Terry Waller – Chair of Deafax Trustee/Directors
Kirsty Crombie-Smith – Honorary Treasurer of Deafax
METEC
METEC stands for Medical Education Technology Enterprises Consortium

Deafax: deafax.org
AACT: aact.org.uk
Decibels: decibels.org.uk
Ability2Access: ability2access.org.uk
Specialkidz: specialkidz.org
Deaf Aspirations: deafaspirations.org
EASiTEC: easitec.co
Deaf First: Deaf Faculty for Innovation, Research, Sports & Technology: deafsportsfootballfoundation.org
GOALS4LIFE (Global Online Assisted Learning & Support): goals4life.org.uk