The Decibels Year of Sound –London 2016-2017 began with a highly successful event at the House of Lords on Wednesday,25th May,2016 and was hosted by Lord Michael Berkeley of Knighton, CBE who is the Honorary President of the Decibels Charitable Trust.
---
The Programme for the day
12.15 Guests arrive –Drinks & Canapes on the Terrace
12.40 Welcoming address by Lord Michael Berkeley of Knighton, CBE (Honorary President of Decibels)
12.45 Brief overview of Decibels Year of Sound-London 2016-2017 by Ken Carter-Founder of Decibels
12.50 Introducing Ruth Montgomery and her deaf musicians by Paul Townson-Chair of Decibels. Musicians: Danny Lane, Sean Chandler, Eloise Garland, Edward Montgomery.
13.05 Drinks & Canapes
13.15 "Signed Theatre - Wuthering Heights - Kate Bushe" by Caroline Parker, MBE
13.20 Drinks & Canapes
13.30 "Promoting Art through Music" by Rubbena Aurangzeb-Tariq
13.35 Drinks & Canapes
13.45 "Monologues of Shakespeare" introduced by Ilan Dwek and performed by Rachel Merry, Alice Taylor–TAEDS (Theatre Arts Education & Deaf Studies) students of the University of Reading.
14.00 Drinks & Canapes
14.15 Advancing communication technology through "Signly" by Helen Lansdown-CEO of Deafax.
14.20 Thank you for coming to guests and performers by Paul Townson & Lord Michael Berkeley
14.25 "APPEAL for HELP" –give out cards -from Riccardo Mancuso & Ken Carter
---
Lord Berkeley opened the proceedings by welcoming the Founder of Decibels, Ken Carter, Honorary Vice Presidents, Trustee/Directors, performers, interpreters and guests - Please see the video below
---
Ken Carter thanked Michael for his welcoming address. He wasn't sure whether he should address Michael as Lord Michael Berkeley of Knighton, CBE or should it be "Berkeley"? When he was a teacher at the Oratory School when Michael was there 55 years ago, the staff were obliged to call pupils by their surname and not their first name. He posed the question about whether this had changed over half a century?
Ken stressed that this charitable /educational enterprise was to be more than the measurement of sound. He wanted it to be about –MUSIC, THE ARTS, FILM, TV, DRAMA/PERFORMANCE & the USE OF INNOVATIVE TECHNOLOGIES for deaf and disabled people who are challenged by speech, language and communication.
He challenged everyone on the Terrace by asking how many Decibels was he using for his speech without the microphone? 60dB. What about whispering? 30 dbs. What about shouting? 90dB.What about the threshold of pain? 125dB.
He mentioned that one of the deaf musicians has a hearing loss of 125dbs but with an ANALOGUE - not digital - HEARING AID, she hears sound which enables her to be a top class musician… Wow!!! He still can't believe it!
Ken went onto to explain that the Decibels Year of Sound-London 2016-2017 was about "EXPLORING SOUND" in its many forms and in our respective lives.
He stated that he loved the word "EXPLORATION". It mainly comes from having been born in Tavistock and going to school in Plymouth. He asked the audience whether anyone knew of any famous person from Tavistock? It was Sir Francis Drake who was the first person to circumnavigate the globe and also become an "infamous pirate". He thinks Drake kept his wealth in Panama as he was no fool!! What about Plymouth? Charles Darwin set sail in the "Beagle" from Edgecombe and he later wrote the "The Origin of Species by means of Natural Selection".
He joked about a certain "Pseudo" (how do you sign that?) explorer which was himself who sailed out of the Plymouth SOUND in HMS Cumberland as a National Service Royal Marine Commando and sailed around the Mediterranean for 18 months having a "whale of a time"!
He said that his two exploratory heroes now are Vinton Cerf who was the architect/inventor of the Internet and Deafax's Honorary President. He is hard of hearing and his wife Sigrid has been profoundly deaf most of her life until she had a cochlear implant two years ago which now allows her to hear most things. Decibels hopes they will join us at future events.
His other hero is Michael Berkeley, an eminent composer, musician and broadcaster who is now profoundly deaf and following in Beethoven's footsteps- Please see https://www.theguardian.com/music/2010/sep/07/beethoven-deafness-music-composition.
This Year of Sound wants to involve professionals and non -professionals in the areas of sound, audiology, communication technologies, education, medical/health issues, environment, noise, music, sonic art & others and to hold them in possible venues in London such as RSM (Royal Society of Medicine), Dolbys, RSA (Royal Society of Arts), RADA (Royal Academy of Dramatic Art), Loughborough University London & others.
In closing Ken mentioned that Michael had told us not to ramble on and to keep to our time managed programme as the Terrace was, that afternoon, going to be used for "afternoon tea". He passed on the "Decibels Baton" to his Chair of Trustee/Directors, Paul Townson who has been highly supportive and forward thinking towards the work of Decibels.
He thanked everyone for LISTENING and WATCHING his short introduction and encouraged everyone to have plenty of canapes and drinks and to move around between performances so that they could get to know as many guests as possible.
---
Paul Townson – Chair of Decibels-then introduced Ruth Montgomery and mentioned his visit with his wife Thelma to Budapest (Hungary) to hear and watch her play so magnificently with a group of deaf and blind young musicians. He mentioned that she had been sponsored by Decibels-Please see the link to Budapest .
---
Ruth Montgomery then gave a very brief professional overview of what she was going to play accompanied by her brother Edward Montgomery which was written by Sir Lennox Berkeley who was the father of Michael Berkeley.
Ruth then introduced Eloise Garland who is a singer, musician, deaf & awareness raising activist who is in her final year at the City University, London.
---
Danny then introduced himself and Music and the Deaf as well as the 4ORTE group consisting of Sean Chandler, Eloise Garland, Ruth Montgomery and himself. Their performance speaks for itself and was quite outstanding. They are truly great deaf role models
---
Ken Carter stated that he felt very privileged indeed to be introducing Caroline Parker, MBE to all the guests present as he thinks she is the "Cats Whiskers"!! He encouraged everyone to go to Caroline's website (http://www.simplesite.com/carosparks/ ) as it's a real education of tracing her last 30 years of performing through signed theatre, dancing, sign songs, miming and launching a stand -up comedy act.
He said that he first remembered her 30 years ago in a Theatre of the Deaf production of the "Boy Friend". He couldn't believe that she and other deaf girls and boys could dance the "Charleston" so brilliantly. To have a laugh and a giggle he asked her to show the guests  a few steps of  the "Roaring Twenties". She obliged immediately and got a round of applause.
He informed the guests that when he approached Caroline about giving us a glimpse of her theatrical work, she came back with three options from which she was finding difficulty in choosing. They were:
DRAMATIC - Bohemian Rhapsody
DIVA is My Way - Shirley Bassey.
FUNNY - Wuthering Heights by Kate Bushe
Ken went for the FUNNY so that it would liven up as the guests and also the Peers at the House of Lords. Before she began, the guests were told that the show she is currently working on wants her hair short in her natural dark brown colour but NOT GREEN, PURPLE or BLUE.
---
In introducing the next speaker RUBBENA AURANGZEB-TARIQ, Ken said that her credentials are outstanding and overwhelming in so many different areas. She is the only person he knows who has not just one MA degree, not two but three MA degrees from Goldsmiths College, London. He   teases her about getting a Ph.D when time permits. She is the Chair of DEWA (Deaf Ethnic Women's Association) which she set up and is also Co-Chair of Deaf Aspirations. She is the Senior Health Education Trainer for Deafax and works with Schools for the Deaf and Hearing Support Units in the UK. She covers drugs, drinking, sexual matters, exercise, well- being and is a great role model. Ken said that he was very pleased to welcome Rubbena's mother Rehmat to this event and for her to see her daughter in action. Ken definitely wants to see Rubbena one day become a "Baroness" and a member of the House of Lords. Art is her great passion so she communicated about Art and Music for us and how she wants to work more closely with Ruth Montgomery and other deaf musicians.
---
As Ken sits on the BA (Hons) TAEDS (Theatre Arts Education & Deaf Studies) Board of Studies course at the Institute of Education, he was delighted to introduce Ilan Dwek who is an outstanding Lecturer in Signed Theatre on the course and is deaf himself. Ilan was able to bring two of his third year students, Alice Taylor and Rachel Merry to perform two "Monologues of Shakespeare". Alice performed as Margaret from King Richard III – and was voiced by Rachel ; and Rachael performed as Tamora from Titus Andronicus - voiced by Alice . They received rave reviews for their respective performances and helped to celebrate Shakespeare' 400th Anniversary in style.
---
It was with much pleasure that Ken introduced Helen Lansdown as she is the CEO of Deafax which he founded nearly 30 years ago. As a former English Graduate of Reading University, she has gone on to lead  Deafax- www.deafax.org into some exciting and ground breaking areas of technology and deafness. Her latest initiative is Signly - http://signly.co/ ; which has enormous potential and delivers smart signed content directly to the user's mobile device. Guests were invited to check out Signly on a number social media outlets such as : https://www.facebook.com/SignlyApp/.
---
Ken Carter wound up of the event by thanking Michael Berkeley for hosting this great event, all the House of Lords staff, speakers, performers, interpreters (Sheryl Gale, Keren Seabrook and Phillipa Henderson who were first class) guests plus Riccardo Mancuso, Karen McCrory, Polly Goodwin(Lord Colin Low's Parliamentary Assistant ) and especially Debbie Flory who did a great job on the administration side of this historical celebration of Decibels YEAR OF SOUND –London 2016-2017.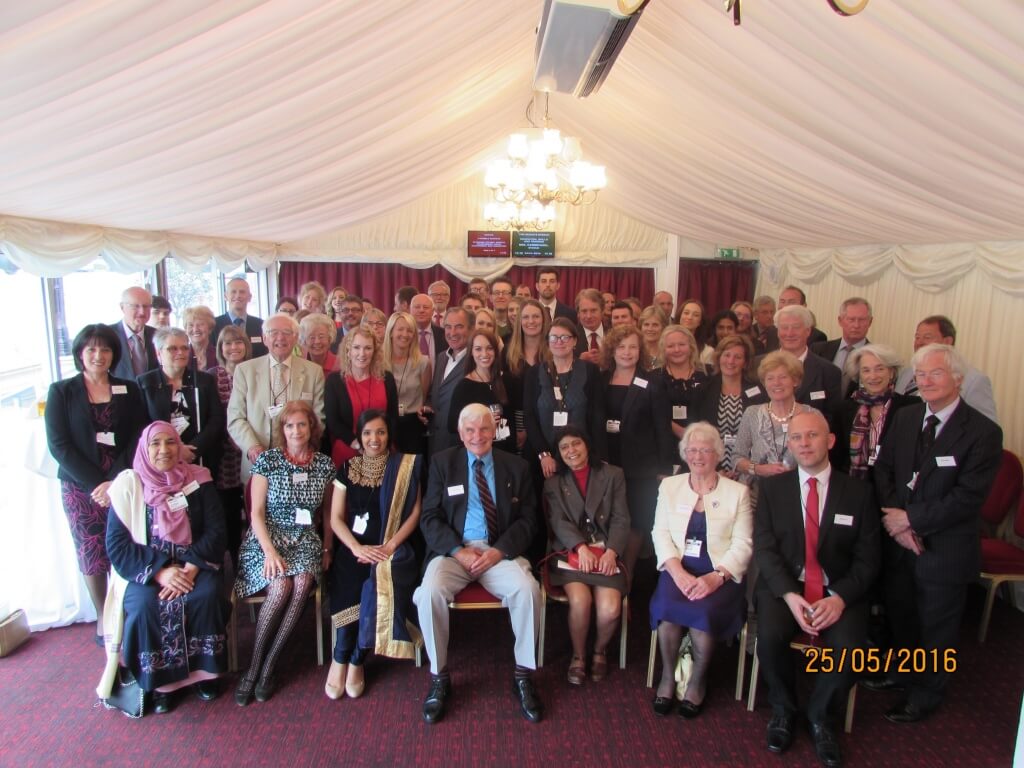 To conclude the Decibels Year of Sound –London 2016-2017 at the House of Lords, Riccardo Mancuso who has helped greatly with the organisation of the event addressed the guests and asked them to take one of the cards produced by Decibels and to consider how each person who attended might contribute to DECIBELS -see below.
EXPLORING THE IMPORTANCE OF SOUND IN EVERY DAY LIFE
FIVE PRINCIPLES
Health- Deafness prevention, research to help those with hearing issues, coping with hearing loss, helping people understand the impact of hearing loss on others
Sound Environment-Awareness of sound in cities, towns and the countryside
Recording & Diffusion Techniques
The Relationship between Image & Sound in the context of the performing arts
Music & Sound Expression
HOW CAN I GET INVOLVED?
Participate in our upcoming events-
6 locations in London 2016-2017 to be confirmed.
More details on the Decibels website
Contribute
Help our fundraising efforts
Spread our message - be a YEAR of SOUND ADVOCATE
Contact Us
ken.carter@decibels.org.uk or d.flory@decibels.org.uk
Tel. 0118 931 3240 or 01491 576281
---
We'd like to extend our gratitude to Will Sidebottom, who is on the DECIBELS UNLOCKED Research team and producing our e-Newsletter, for taking the photos of this event so that we can use them for our website & social media outlets.
---
Quotes from guests
"The 4ORTE ensemble performed alongside other talented deaf and hearing actors and artists, making the event a real celebration of the achievements of deaf and hard of hearing people. I thoroughly enjoyed meeting new people at the House of Lords, including founder of Decibels, Ken Carter. The whole experience was quite exciting."
Eloise Garland (singer, musician, deaf and awareness campaigner at City University).
"On behalf of Niamh, Rachael and myself, we would like to thank you profusely for your invitation for us to come to the event today. We all had a wonderful time and were so interested to meet the friends of Decibels and also to hear some stories about yourself from some of your friends too! We really cannot thank you enough for a fabulous day out and also pass on our thanks to Lord Michael Berkeley. Also, please pass on our congratulations to all of the performers. The music was beautiful and we felt that the Shakespearean monologues were particularly powerful with the signing and words combined. A definite highlight for us though was the performance of Wuthering Heights; very funny and we had never seen anything like it before!"
Aiyana Tandon, Niamh Green & Rachel Martin –Leighton Park School in Reading.
"Just want to say thank you for giving TAEDS an opportunity to showcase the incredibly talented young performers and I was very delighted to receive some fantastic feedback from some of the people present at the House of Lords - including Caro Parker who paid compliment not only on their signing skills but also on the accurate translation from Shakespeare which Alice and Rachael both achieved. Another great compliment is from one of the interpreters who watched the first monologue seeing Alice signing with Rachael doing the voice-over she automatically thought Alice is Deaf and then came along the second monologue she was so surprised to see Alice doing the voice-over this time, thus realising that both students are hearing! It is a great tribute not only to the students but to TAEDS course itself for their great passion - as you will recall from my great trumpeting of TAEDS in my speech".
Ilan Dwek, BA (hons) TAEDS (Theatre Arts Education & Deaf Studies) Lecturer
"Mr White from BATOD ( British Association for Teachers of the Deaf ) approached me saying how pleased he was that I mentioned Tom Kent in my speech as he explained that Tom is a unique role model not only for the deaf school pupils but also for young deaf people considering teaching profession".
Ilan Dwek, BA (hons) TAEDS (Theatre Arts Education & Deaf Studies) Lecturer
"It really was a memorable occasion!"
Professor James Crabbe-Universities of Bedfordshire & Wolfson College, Oxford ; and Honorary President of AACT (Access-Ability Communications Technology)
"What a wonderful time was had. Lots of people were educated that afternoon and they left with a new perspective of deaf people and our abilities.  I live for moments like these.  Also to share our arts is always a good thing too. Meant to contact you last week after the event but got distracted by rehearsals which are intense.  Just wanted to say thank you for letting me be part of such a prestigious event and to meet such lovely people".
Caroline Parker, MBE
"I would like to say thank you very much for inviting me and including me with this great event at the House of Lords.  I had the great pleasure to meet so many lovely people, especially the deaf performers.  They were all very good and full of confidence".
Lynn Hnat –deaf and originally from California
"Callum and Melody had a wonderful experience on Wednesday - thank you so much for the invite. Callum was inspired by many things and will be delivering an assembly after the half term break"
Mike Rees-Lee - Head teacher of the Cambian Devon School,52 Borough Road, Paignton, Devon.
"Congratulations on organising such a successful and enjoyable Reception & Event on Wednesday at The House of Lords. It was a great occasion and certainly highlighted the important work that is being undertaken during this Decibels Year of Sound. It was quite awe inspiring to hear and see how talented people with impaired hearing can perform so brilliantly"
Barney Bettesworth, Governor of the Oratory School.