Henley Business School postgraduate students Arthur (see photo), Millie, Jean and David undertake a small _Social Purpose Marketing _campaign on behalf of Decibels focused on the town of Reading - Please read see more via the presentation slides below. Decibels was delighted to be selected by Dr Irene Garnelo-Gomez who is a lecturer at The John Madejski Centre for Reputation, Marketing and Reputation at Henley Business School.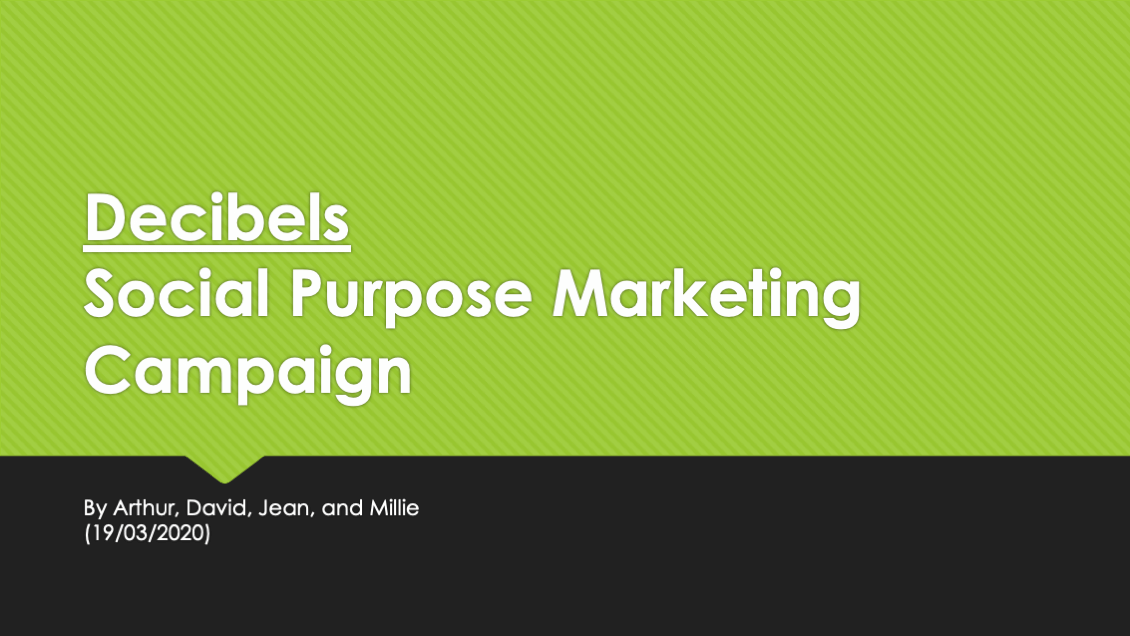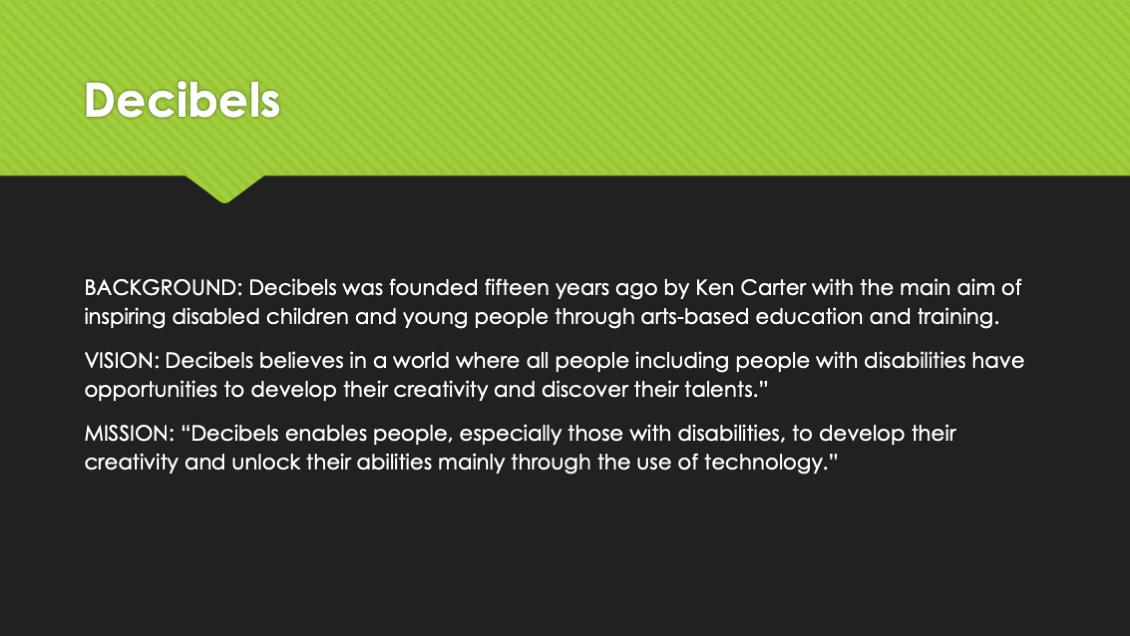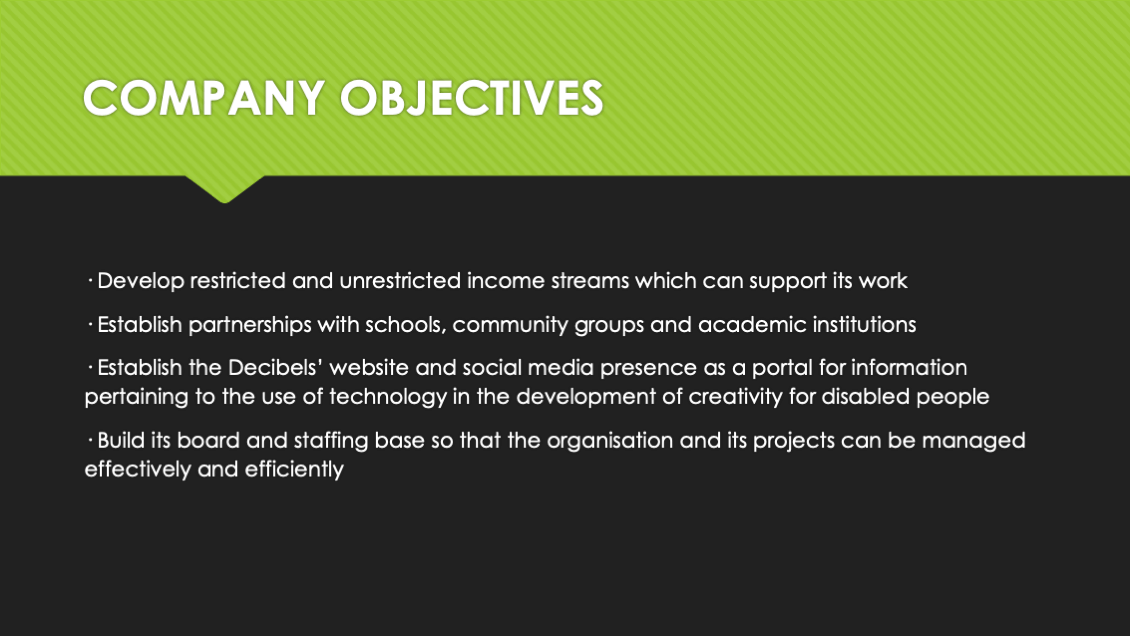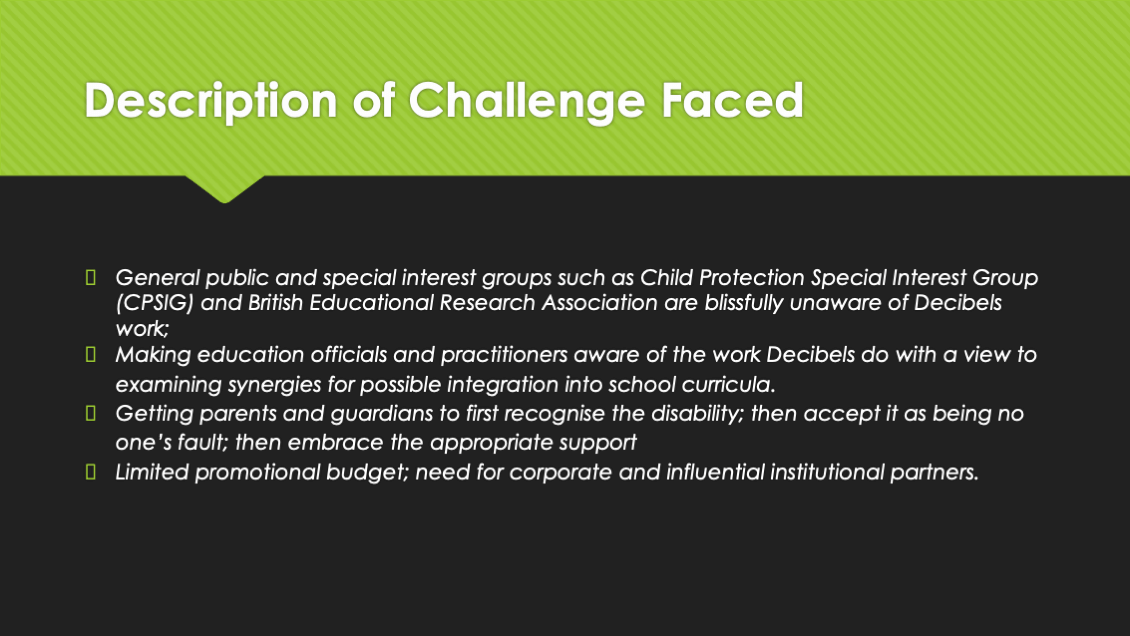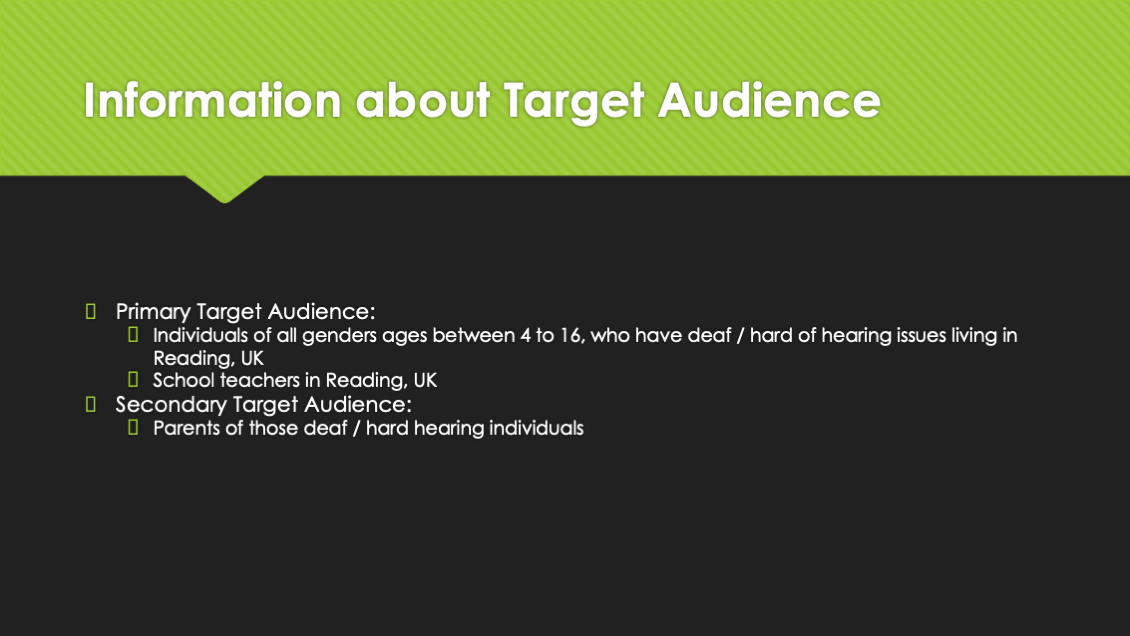 Jean:
"11 million people in the UK are deaf or hard hearing": https://www.gov.uk/government/publications/understanding-disabilities-and-impairments-user-profiles/saleem-profoundly-deaf-user
Deaf people are more likely:

"To have poor mental health - up to 50% compared to 25% for the general population"
"To be unemployed - 65% of working age deaf people are in employment, compared to 79% of the general population"

This is where we see the opportunity for Decibels to grow because there are many individuals in the UK who would really benefited from the help of Decibels
Going back to our project, we are now only want to focus on the Reading area
The reason that we don't want to only focus on the kids is because we also want to create awareness among teachers and parents as well. For teachers, we want them to be able to spot the individuals who have tough time learning in schools and know where to seek for help, which is Decibels. Similar to the parents, we want them to acknowledge the kids' disabilities and to accept that the kids would have a better development in an alternative settings rather than in normal schoolings
There are about 60 schools in Reading: https://en.wikipedia.org/wiki/List_of_schools_in_Reading,_Berkshire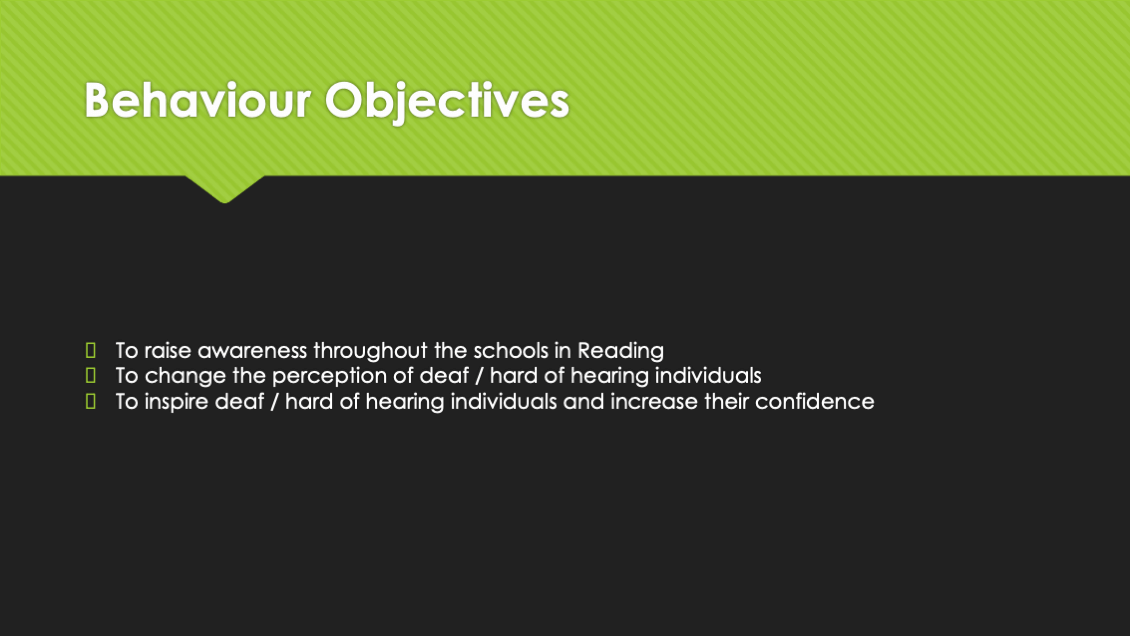 Jean:
To make schools in Reading aware of Decibels existence and encourage them to contact Decibels when needed
To change people's perceptions towards these individuals → They have potentials. They are talented individuals and are capable of doing great things, just lack opportunities to development their skills
To inspire these individuals to express themselves, which will result in them gaining self-confidence and self-esteem.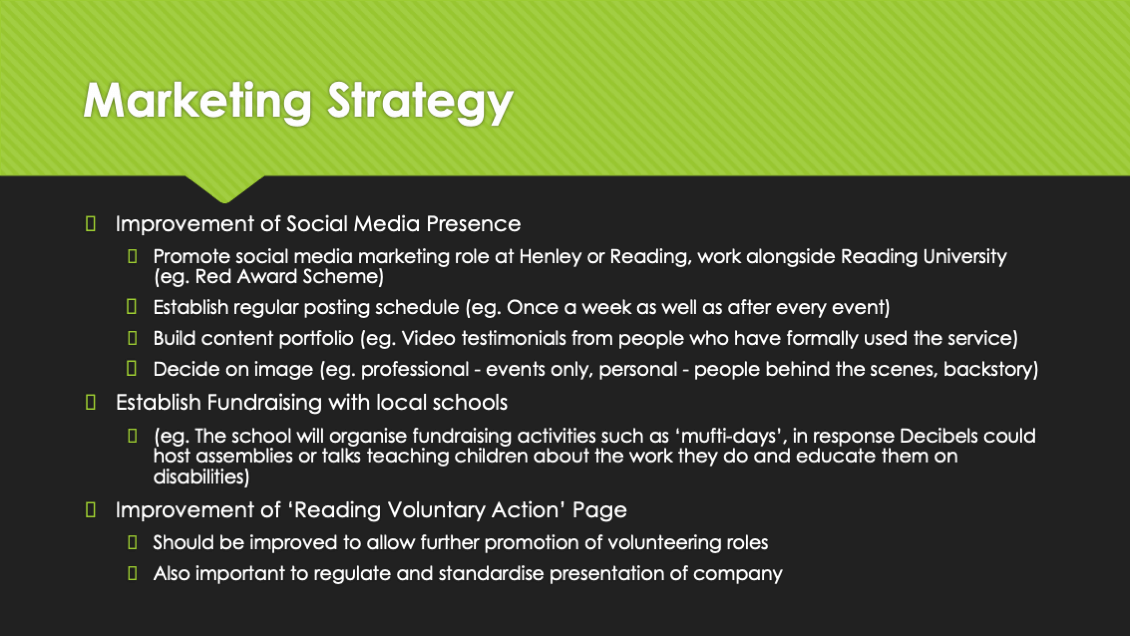 Millie:
There are a number of different marketing strategies Decibels can utilise to further promote their service.
Firstly, Decibels should work to improve their Social Media presence. Decibels could promote a social media marketing role at both Henley Business School and Reading University, utilising volunteer schemes such as the RED Award. A helpful resource would be a pre-organised content portfolio, for example video testimonials from people who have formally used the service. From this, Decibels would be able to establish both a regular posting schedule (for example, once a week and after an event) as well as a consistent brand image.
Decibels could contact local schools for fundraising activities, for example, the school will organise fundraising activities such as 'mufti-days'. In response Decibels could host assemblies or talks teaching children about the work they do and educate them on disabilities.
Decibels should further improve their 'Reading Voluntary Action' page. This would allow promotion of various volunteering roles and it is also important to regulate and standardise presentation of the company.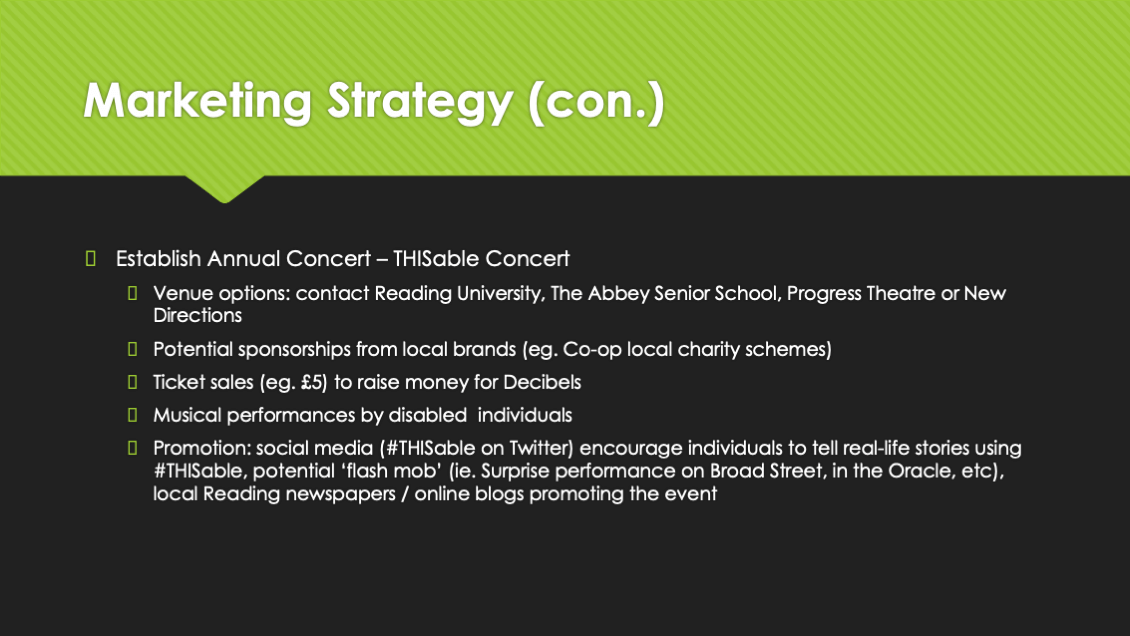 Millie:
Decibels could further establish an annual event — the THISable concert — where disabled individuals aided by Decibels give musical performances. Decibels could contact the following institutions (and places like them) for venue options: Reading University, The Abbey Senior School, Progress Theatre or Reading Council. There is also an option to have sponsorships from local brands, for example, the Co-op has a keen interest in supporting local charities. Ticket sales would raise money for Decibels and help with any upcoming projects.
There are a number of ways the THISable concert can be promoted. People can share stories of living with disabilities through the THISable hashtag on Twitter: this hashtag can be used throughout the year, however it can also be utilised to specifically promote the concert as it approaches. Decibels could potentially organise a 'flash-mob', giving surprise musical performances on Broad Street or in the Oracle to encourage individuals to attend. Decibels could further contact local Reading newspapers or online blogs to promote the event.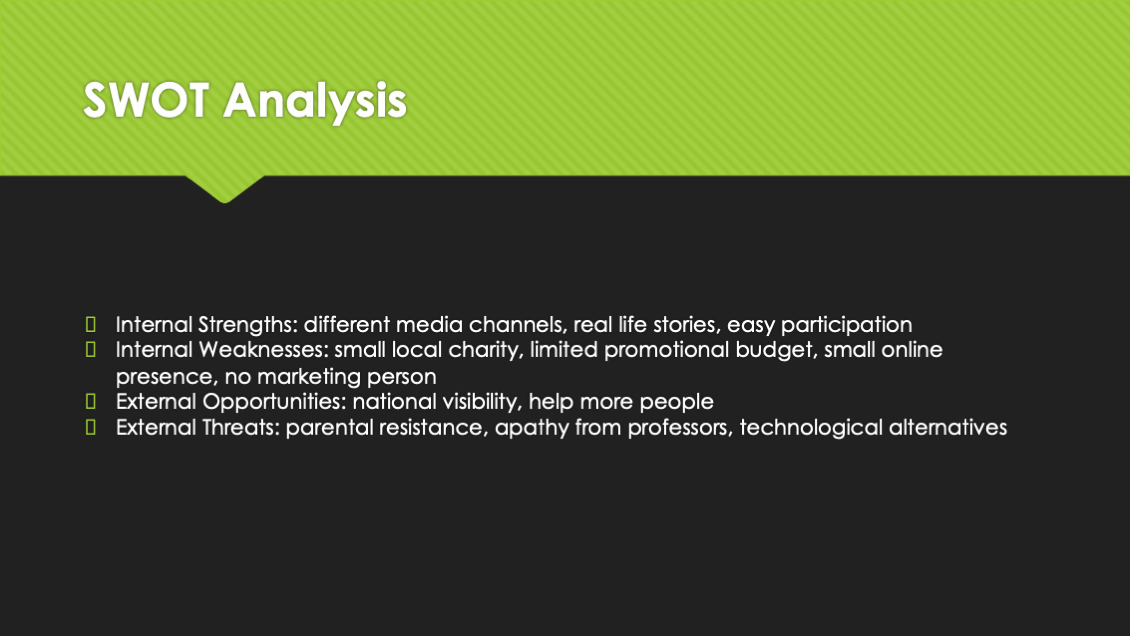 Arthur:
A SWOT Analysis of the internal strengths and weaknesses of Decibels, as well as the external opportunities and threats to its activity:
S:
Different media channels (social media, fundraising and concert) allow Decibel to reach different target audience. (If the campaign is only based online, people who do not have access to social media will miss out about the campaign)
Real life stories told by real people (the use of hashtags on social media) increase the attractiveness and impactful of the campaign through emotional attachment
Everyone can easily contribute
W:
Because the campaign is run by Decibels, who is a small and not so well-known charity, people might not be attracted to that much.
Not many followers on social media and little online presence

70 likes, 79 followers on Facebook page. 310 followers on Twitter.
The last two posts on Facebook: first on 9 July 2018, the second: 8 July 2019.

Limited budget
Not a specialist on social media marketing and concert set-up
O:
An opportunity to reach wider audience (national and international level) who are outside the Reading area through the use of social media
An opportunity to help individuals who are deaf / hard hearing to develop their skills and unleash their potentials
An opportunity to help individuals who are deaf / hard hearing to boost their self-confidence and self-esteem
An opportunity for people to see the potentials of these individuals and what they can contribute to society
T:
Parents who do not want their kids to be in a special program
Some teachers or professors might be reluctant to help
It is a sensitive issue where individuals might not want to share their life-stories to the public via social media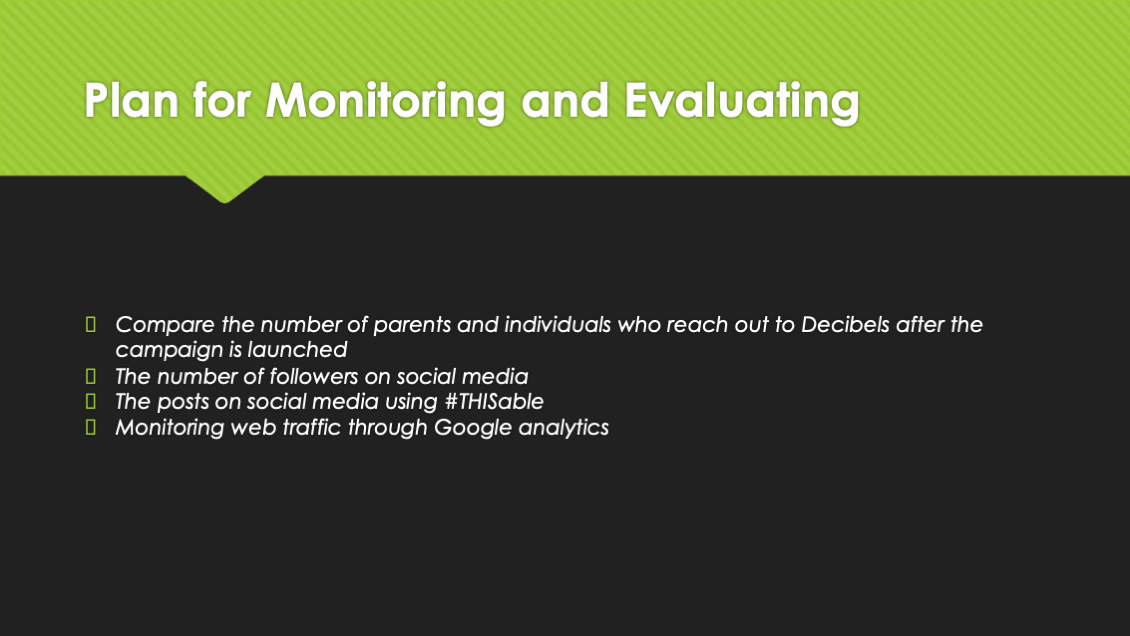 Arthur:
Why: Evaluate the efficiency of the social purpose campaign.
What: Numbers of hours worked on promotion by volunteer (input), promotional activity on social media (input), visit of the websites & reactions on social media posts (outcomes), number of schools and parents reaching out to Decibels (impact).
How: Compare the audience response on social media. compare the number of visits on the website. compare the number of interventions of Decibels in schools.
When: Before the start of the campaign (write down numbers), during the campaign (check the evolution of numbers), after 3 months.
How much: not necessarily any monetary costs if done by volunteers. but it will necessitate a high non-monetary cost (time to take care of the social media)